Back to Catalogue
Becoming an Informed Consumer
Swipe right to go to the next slide
Why is it Important to be Informed?
Just as you may be careful about buying a home, car, or appliance, it is important to be an informed consumer of health information and services.
In this section, you will learn how to be an informed consumer when:
Searching the Web
Finding the right care
Considering use of alternative or complementary therapy
Remember, the best health care decisions are made when you work with your registered health care provider. Please share your concerns and questions with your health care team.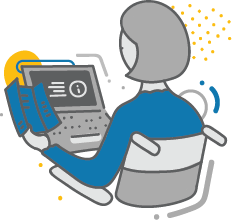 There is a lot of information on the internet. Sometimes it can be hard to know what information is reliable. Ask yourself… can I trust the information on this website?
Health websites sponsored by Federal Government agencies, large professional organizations and well-known medical schools are usually good sources of information. Website addresses are helpful in identifying the source of the information. Addresses that end with:
.gov identify a government agency
.edu identify an educational institution, like a school, college, or university
.org usually identify non-profit organizations (such as professional groups; scientific, medical, or research societies; advocacy groups)
.com identify commercial websites
For more information about evaluating health care information, take a look at these helpful documents.
Finding the Right Concussion Clinic
If your family doctor or nurse practitioner recommends you go to a specialty concussion clinic, choosing one can be a hard decision. This helpful interview guide [pdf] created by Ontario Neurotrauma Foundation gives you examples of questions you might ask. Click on each tip below to read things to consider when you are choosing a concussion clinic.
Tip 1
Tip 1

Tip 2

Tip 3

Tip 4

Tip 5

Tip 6
Not all concussion clinics provide the same quality of concussion care. See the ONF's Standards for Post-Concussion Care [pdf] for more information.

Health care providers delivering concussion care should have experience working with patients with concussion or be supervised by someone who has specialized training or experience.

A medical professional such as a doctor or nurse practitioner should be directly involved in your care. They may be at the concussion clinic you are getting care at or at your main health office. They should receive information from others involved in your care.

Some services are not covered by your Medical Service Plan (MSP). It is a rule that health care providers tell you how much these services cost and provide you with options to consider.

For you to feel better, health care providers involved in your concussion care need to talk to one another and work as a team. It is important for health care providers to:

make sure you have the services you need during your recovery
work with you on things that may be hard in your day-to-day activities
always connect with the other team members who are helping you to get better
work with the doctor or nurse practitioner who will clear you to go back to work, school or play

If there is no concussion clinic in your area, a network or group of health care providers can work together to provide your concussion care. If you don't know where to start, start with your family physician.
Finding the Right Health Care Provider
Guideline for Concussion/Mild Traumatic Brain Injury and Persistent Symptoms [pdf]) contains a list of health care providers and what they can help with. Take a moment to review this list. Depending on the type of prolonged symptoms and how severe they are, you may or may not need any of these providers or in some cases you may need to see a few.
You can talk to your family doctor and also contact provincial regulated bodies or colleges to find a registered health care provider.
Remember, a private community-based services may be reimbursed through third party funding/insurance.

Questions to ask Alternative or Complementary Therapist
Some people get frustrated with the pace of their recovery from concussion and may consider alternative or complementary therapies. Before you invest time and money, it may be worthwhile to ask your provider some questions. For example:
Has this treatment has been shown to work better than no treatment or other known treatments for concussion?
How much of the treatment is needed to achieve the desired results and what timeframe?
How much will the treatment cost?
What are the common side effects to this? What are the rare but serious problems?
When and how would we know that the treatment is not working?
Why do you think this treatment will work for me? What would change your mind?
For a more comprehensive list of questions, take a look at Alternative Therapy - Will it work for me? (pdf)

Whether you are looking for reliable health information or trying to find the right treatment and provider, it's important to ask lots of questions!
List the questions you want to ask, print a copy, and bring the questions to your appointment.