Back to Catalogue
Navigating the Health Care System
Swipe right to go to the next slide
Pathway to Concussion Recovery
The Concussion Care and Recovery Pathway diagram [pdf] can help guide your recovery process, in partnership with your family doctor or nurse practitioner. They can help determine if you need to see a specialist or can benefit from certain therapies. Many people who get a concussion do not need these kinds of specialty healthcare services.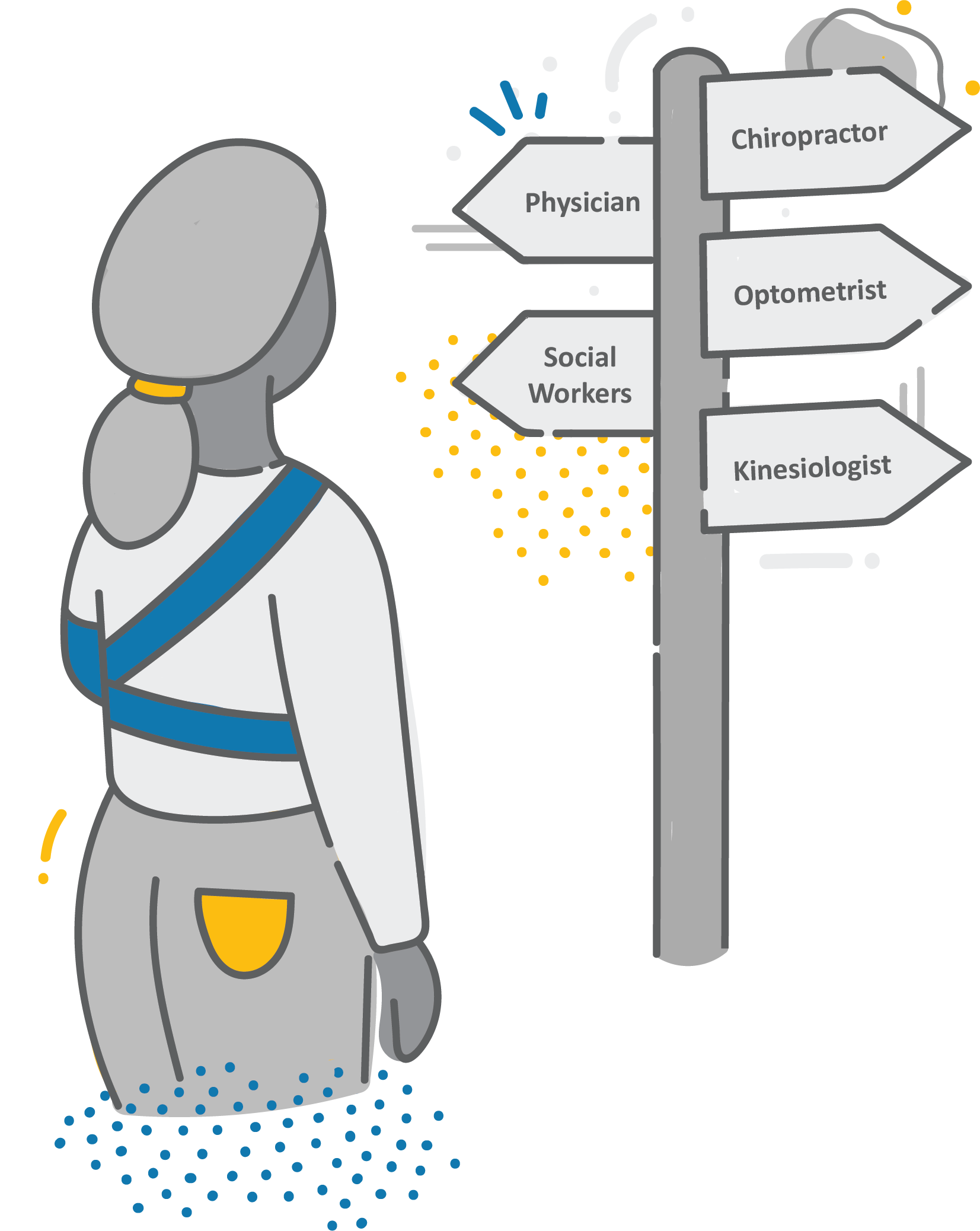 Partnering with Your Doctor or Nurse Practitioner
Your doctor or nurse practitioner will determine if you had a concussion. You may want to ask about:
Whether your symptoms are typical and "normal" after concussion
Expected timeline for recovery
How to manage and monitor your symptoms
What you can do to manage stress
When and how you can return to your usual activities
Often it is helpful to see your family doctor or nurse practitioner 1-2 weeks after your injury to monitor your symptoms.
You may find it helpful to understand and manage your symptoms by recording a few things. This can include tracking your medication, which strategies are helpful for managing your symptoms, and questions for your family doctor.
You can work with your family doctor to develop, monitor, and revise your treatment plan by completing pages 4-6 of the document Information to Bring to Your Family Dr./Primary Care Provider [pdf].
Then, bring the completed document to your appointment with your family doctor.
My Recovery is So Long...
If you have prolonged symptoms after concussion, your doctor or nurse practitioner may:
Re-assess your symptoms
Review your prescribed and over the counter medications/supplements, and the use of alcohol or marijuana, or other drugs
Check for other health conditions that might be contributing to your prolonged symptoms
Ask about emotional or social factors that might be affecting your recovery
Your family doctor or nurse practitioner may provide a referral to a clinic that specializes in concussion and/or other providers. The referral would depend on your injury, symptoms, pre-injury health, and the results of your medical exam and tests.

Your family doctor or nurse practitioner may also provide referrals to specialized individual providers for prolonged symptoms such as depression or anxiety, headaches or dizziness.
Taking Action!
Think about your concussion care and concussion recovery. Then, plan your next steps with the help of your family doctor.
Suggested Reading
It is important to ensure the concussion services you are receiving are meeting your needs. Click on the tile below if you would like to read the article Becoming an Informed Consumer. The article provides information on what services are provided by which health care professionals.